Empire Screen Announces New Screen Making Equipment to Improve Processes and Efficiencies
Empire Screen leverages technology advances to enhance the employee experience.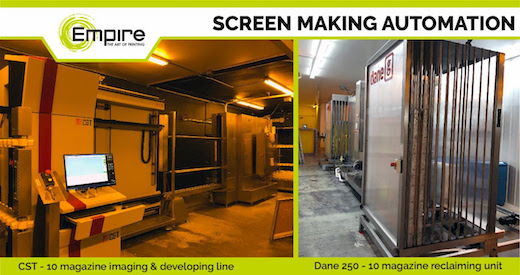 Empire Screen Printing, a leading manufacturer of screen-printed products, announces that it has implemented new screen making equipment to improve processes and efficiencies. Empire screen has leveraged new technology advances to simultaneously enhance its employee experiences and better meet the needs of its internal customers.
Automation has played a key role in Empire Screen's screen making improvements. Screen makers previously had to handle screens up to 30 times, requiring a repetition of a long series of actions. An employee had to retrieve the screen from the press, wipe off the ink, clean it, wash it, prepare it for new emulsion, conduct imaging, development, wash it out, dry it, tape it, block it out, and inspect it to have a screen ready to return to the press. This involved lifting and moving frames multiple times, with some as large as 60" x 79", and direct contact with chemicals. These advancements in automation have reduced the number of touches per screen by half, which ultimately makes the processes more efficient, consistent, and safer for the employees.
Early in 2021, Empire Screen purchased a Dane 250 to wash the ink and emulsion off screens automatically. This has dramatically improved the screen-making process. Now, Empire Screen simply removes the tape from the screen, stages it in a 10-screen feed magazine, and the Dane then automatically washes the ink out, removes the emulsion, and gives a final rinse before releasing it into a clean screen magazine. The frames can then be inspected, hazed, and degreased for coating. This is a much safer and cleaner process for Empire Screen's employees.
To support the use of the chemicals within the Dane, Empire Screen purchased a new still to recycle ink wash. This practice is in line with Empire Screen's sustainability policy, namely, to incorporate activities and procedures that will reduce Empire Screen's impact on the environment as well as improve the quality of health and wellness of its employees. Empire is working towards recycling upwards of 25-50% of the water used for future environmental improvements.
Empire Screen also introduced a CST laser exposure unit. The original process required physically loading and unloading the exposure unit, doing the same with the developer, and again moving it to the dryer. This is a considerable amount of screen handling and lifting. The CST laser exposure unit dramatically simplifies this process for its employees.
In preparation for this equipment, Empire Screen added a 10-screen feed magazine, automatic developer, and a drying magazine. This automated process allows Empire Screen to load the exposure magazine, and the rest is then automated. After this, screens go directly to the inspection area. Empire Screen effectively removed 8 handling steps per screen by implementing this new process. With a full magazine, this eliminates 80 handling steps within the process.
Empire Screen aims to continue automating and improving screen making, making it a safer and more efficient process. Leveraging new technology advances Empire Screen's environmental mission, as well as confirming its care for its employees and its commitment to providing the best products on the market for its customers. Ultimately, these changes confirm its status as an industry leader in conscious and effective screen printing. For more information on Empire Screen, visit www.empirescreen.com.